Have you ever wondered if UV-C ultraviolet sanitizers and sterilizers stop the spread of COVID-19? Well the answer is yes! UV-C radiation has been scientifically proven to fight the COVID-19 virus and other pathogens that attack humans.
Let's take a look at the science…
In the August 2019 issue of the Journal of Applied Microbiology, an article titled "Effect of UV-C light or hydrogen peroxide wipes on the inactivation of methicillin-resistant Staphylococcus aureus, Clostridium difficile spores and norovirus surrogate" reported that UV-C was often more effective than hydrogen peroxide wipes and chemical treatment for disinfecting health care equipment and facilities. (

https://pubmed.ncbi.nlm.nih.gov/31077510/

)

An article in the July 5 2018 issue of the journal Vaccine, titled "Ultraviolet-C irradiation for inactivation of viruses in foetal bovine serum," reported that UV-C radiation successfully, significantly reduced viral load of several different viruses. (

https://pubmed.ncbi.nlm.nih.gov/29891350/

)

An article in the June 20 2018 issue of the journal International Journal of Food Microbiology, titled "UV-C inactivation of foodborne bacterial and viral pathogens and surrogates on fresh and frozen berries" reported that a very brief application of UV-C radiation inactivated several pathogens, including hepatitis A virus (HAV), Escherichia coli, and parasites such as Cyclospora caytanensis.
The World Health Organization (WHO) has officially stated that ultraviolet-C radiation is useful in getting rid of the COVID-19 virus and other Coronaviruses.
In the February 25 2017 issue of the prestigious medical journal The Lancet, in an article titled "Enhanced terminal room disinfection and acquisition and infection caused by multidrug-resistant organisms and Clostridium difficile," researchers reported that adding UV-C radiation to existing hospital room sterilization materials and procedures created better health outcomes compared to standard sterilization procedures without UV-C. (

https://pubmed.ncbi.nlm.nih.gov/28104287/

)
Please note that while UV-C sterilization technology is exceptionally effective, it doesn't eliminate all pathogenic infestations, and should be part of an integrated anti-pathogen sterilization protocol created by public health authorities.
So yes… These are scientifically proven facts. But what products can you use to clean your home? CleanLight offers two products:
CleanLight UV Air disinfection
CleanLight Air is a CleanLight sterilization device. This is a fan-driven columnar air filtration unit that far exceeds air cleansing units commonly sold in the same price range. It treats areas as large as 100 cubic meters (3500 cubic feet), depending on the height of your ceilings. CleanLight Air uses a high-powered UV-C bulb, an innovative ionization process, and a special microbial filter to trap and kill pathogens. The air intake comes via a German-made Emb-Papst 4400 fan that is whisper-quiet, powerful, and energy-efficient. The CleanLight Air was built, designed and tested completely in the European Union, so you know it's high quality. For larger spaces, ask us about our Pro-Air 800 fan-powered duct filtration system.

CleanLight UV Surface disinfection
Not only is this CleanLight UV disinfection unit against COVID-19, but also against other bacteria and fungi diseases. By applying CleanLight on the surface you would like to disinfect, such as a doorknob, a mobile phone, a pencil, you name it, you will be able to inactivate the coronavirus making it non-infectious directly after the treatment. CleanLight made this unit very easy to use. They don't weigh much, and all you do is plug them in, turn them on, and bathe target areas in UV-C light for a few seconds. The large and powerful CleanLight Pro delivers an intense dose of UV-C that's much higher than the dose shown to be effective against pathogens such as COVID-19.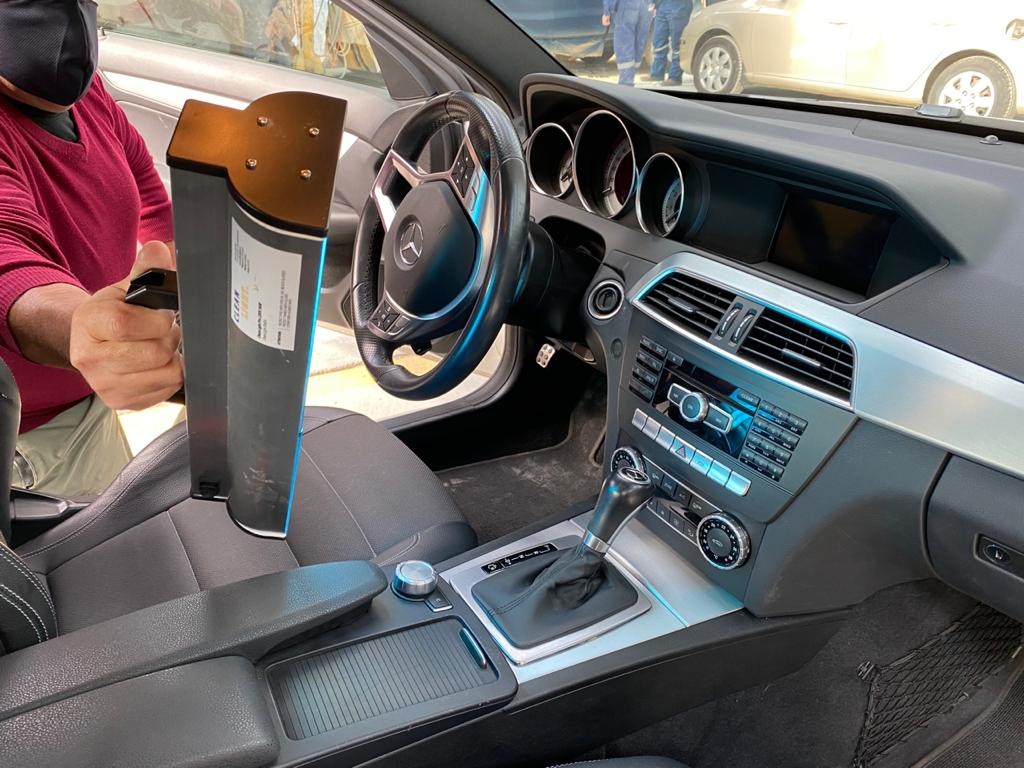 In this video below you see how the CleanLight is used being used to disinfect the oven, a place where prints are often left behind. Do you want to know more about these products? Send us a message via the contact form, or give us a call.